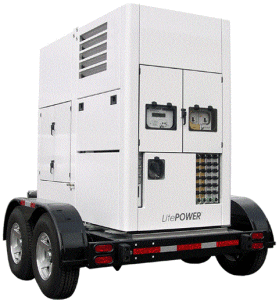 Burrell Enterprises, Inc. designs, builds, and sells LitePOWER Movie Quiet generators and related accessories. LitePOWER generators are designed for use in the Motion Picture and Entertainment industries but can be used at any location where extremely low noise level and portability are important.
LitePOWER generators differ from their competition in two key areas: weight, and ease of maintenance and operation. Lighter weight means that they can be towed or carried by smaller, lighter vehicles. Maintenance and operation are simplified because of our microprocessor-based controls and monitoring.
LitePOWER generators are available from 60KW to 220KW and are available with or without trailers. Contact Burrell Enterprises, Inc. for pricing and availability.
Burrell Enterprises, Inc. is a Texas corporation that was founded in 1992 by Bob Burrell. His first job after college was at Victor Duncan, Inc., a mid-west company that rented film, lighting, audio and later video equipment. He was their 7th employee and stayed on for 25 years where he retired as vice-president.
In addition to various management positions, Burrell was responsible for the technical aspect of the equipment that Victor Duncan rented. This included the design and manufacture of rental equipment and diagnostic tools used to test this equipment. Then, as it is today, his focus, talent and passion is to build and develop innovative equipment that makes the end users job easier.
Our mission statement reflects his philosophy: To create LitePOWER products with such high quality standards and technical innovations that they will inspire high demand and ensure future growth of the company.