Specifications
Engine
Cummins 6BTA5.9G1 turbocharged, after cooled 6 cylinder diesel. Meets 1998 EPA Mobile Off Highway, and California SCAQMD and CARB permitting requirements. Maximum Output is KW/AMPS: 112KW/933a prime (continuous), 120KW/1000a standby (intermittent).
Frequency Control
Barber-Colman electronic controller with external linkage, insuring precise frequency control. Meets HMI lighting requirements.
Controller
Engine control and monitoring, AC monitoring, fault and pre-fault systems are provided by a microprocessor-based system. All readouts are digital and are listed below. Weather-proof glass cover.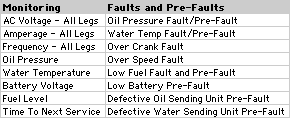 Generator
Lima/Marathon MagnaPLUS 125KW (1041 amps @ 120V) three phase 75 KW (625 amps @ 120V) single phase @ class F 130 deg rating. 135KW (1125 @ 120V) three phase 80KW (667 amps @ 120V) single phase @ class H 150 deg rating. CSA listed.
Voltage Regulator
LIMA/MARATHON SE 350A with remote voltage adjustment. UL and CSA listed.
Circuit Breaker
350 amp breaker protects equipment in either single or three phase. Weather-proof glass cover. UL and CSA listed.
Electrical Connection
USA – 18 hole Cam-Lok – E1016 panel includes 3 male grounds, 3 female grounds, 3 neutral, 3 leg one, 3 leg two and 3 leg three. One Edison 20A duplex with 20A breaker and one 60A Union connnector with 60A breaker provided for convenience outlets.
CANADA – Cam-Loc 1016 replaced with 400A Ball Nose Connectors. UL and CSA listed.
Optional Accessories
Remote Annunciator
Remote monitoring of engine and generator via cable. Operates up to 1700 yards. Includes 50′ cable.
Remote Annunciator With Remote Start
Provides remote monitoring of engine/generator and remote start/stop.
Electronic Service Kit
Provides total redundancy of all electronic parts. Each component can be installed in less than ten minutes.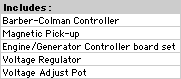 480 Volt
277/480 Volt 3 phase in addition to standard voltages.
Trailer
2 Dexter Torflex axles, 15″ chrome wheels with E-rated tires, surge hydraulic brakes with LitePOWER Brake Retarder or Electric Brakes, 3 position coupler with your choice of 2″ ball, 2 5/16″ ball or drawbar (for Pintle Hook), DOT lighting and markings, 7000# GVW standard.

Weight – components
Generator (wet-no tank) 3640 lbs. (1655 kg)
120 Gallon Fuel Tank 372 lbs. (169 kg)
160 Gallon Fuel Tank 429 lbs. (195 kg)
Trailer 1140 lbs. (518 kg)
Weight – complete package
Generator, 120 Gallon Tank,
Trailer and Fuel 5952 lbs. (2705 kg)
Fuel Tank
120 or 160 gallon. Required for LitePOWER trailer but not for truck or stationary mounting.
Jockey Box Tanks
Dual 60 gallon tanks for truck mounting.
Hours Running Time

Noise Level
Less than 50 dB(A) @50 feet.