Housing Module
Built on fork pockets for easy installation. 4 swing open / lift off doors for total access. All service items located on end of housing for easy maintenance. Lube oil dip stick, lube oil fill, lube oil drain, lube oil filter, fuel inlet, fuel outlet, fuel filters, engine speed actuator, battery, air filter and coolant recovery tank can be serviced from ground level. Control and Output Modules plug into this housing. Requires only 66 inches of space.
Remote Output Panel
Plugs into generator housing with flexible cable. Mounts to outside of truck body. Contains output connectors, main and auxiliary circuit breakers, convenience outlets and connection for engine block heater. Made entirely of brushed stainless steel.
Remote Control Panel
Plugs into generator housing with flexible cable. Can be mounted in various locations. Contains engine/generator controller, engine speed controller, voltage regulator, 20A convenience outlet and emergency breaker shut-off switch. Made entirely of brushed stainless steel.
Engine
Cummins 6BTA5.9-G3 turbocharged, after cooled, 207 bhp, 6 cylinder diesel with premium cylinder head and high durability components from factory. Meets EPA Mobile Off Highway, California CARB and SCAQMD requirements. Equipped with filter for crankcase breather and oversized air filter for clean operation in and out of the engine.
Frequency Control
Woodward digital electronic controller with actuator integrated into fuel injection pump. No external linkage to maintain. Controller mounted in remote control panel. Crystal accuracy for HMI lighting.
Controller
Engine control, AC monitoring, fault and pre-fault systems are provided by a microprocessor-based system. All readouts are digital and are listed below. Weather-proof glass cover. Mounted in remote control panel.
Monitoring
AC Voltage – All Legs
Amperage – All Legs
Frequency – All Legs
Oil Pressure
Water Temperature
Battery Voltage
Fuel Level
Time To Next Service
Faults and Pre-Faults
Oil Pressure Fault/Pre-Fault
Water Temp Fault/Pre-Fault
Over Crank Fault
Over Speed Fault
Low Fuel Fault and Pre-Fault
Low Battery Pre-Fault
Defective Oil Sending Unit Pre-Fault
Defective Water Sending Unit Pre-Fault
Generator
Stamford/Newage UCI 274F. Low Wye (120/208) 145KW. Optional – Hi Wye (277/480) 165KW. Optional, ZigZag (120/240) 108.8KW. 2/3 pitch windings avoid excessive neutral currents. Class H insulation. CSA listed.
Voltage Regulator
SE 350 with voltage, stability and under frequency roll-off adjustments. UL and CSA listed. Mounted in Remote Control Panel.
Circuit Breaker
350 amp breaker protects equipment in either single (if equipped) or three phase. Weatherproof stainless steel cover. UL and CSA listed. Mounted in remote output panel.
Electrical Connection
12 UL listed Cam-Lok type connectors as follows: 2 male ground, 2 female ground, 2 neutral, 2 leg one, 2 leg two and 2 leg three. 1 Edison 20 amp outlet and one Bates 100 amp provided for convenience outlet. For Canada 60 amp Joy connector used. NEC approved panel with CSA / UL components. Mounted in remote output panel.
Optional Accessories
Installation in Your Truck or Trailer Body
Requires a 48″ side door, preferably on street side. Requires bulkhead 66 inches back from front wall with small access door. Requires installation of Remote Output Panel and Remote Control Panel. Requires provision for air inlet from floor and air outlet in roof. Can be performed at any truck body service center or our location in Toronto. Instructions and engineered drawings are available.
Electronic Service Kit
Provides total redundancy of all electronic parts. Each component can be installed in less than ten minutes. Includes:
Engine/Generator Controller Board Set
Woodward Controller
Voltage Regulator
Voltage Adjust Pot
Magnetic Pick-up
Single Phase Option
2 position switch with following voltages:
120 / 240 Single Phase (Zig Zag)
120 / 208 Three Phase (Lo Wye)
480 Volt Option
3 position switch with following voltages, includes current limiting.
120 / 240 Single Phase (Zig Zag)
120 / 208 Three Phase (Lo Wye)
277 / 480 Three Phase (Hi Wye) also used for 50 hz / 220 operation.
Size/Weight
Length: 85″, Width: 36-1/2″, Height: 68″, Weight: 4017 pounds (1825 kg)
Fuel Consumption
Load
1100A
825A
550A
275A
Gallons/Hour
8.00
5.90
4.00
2.30

Noise Level
Less than 48 db(A) @ 50 feet when installed in truck body.
LitePOWER Insert Generator Benefits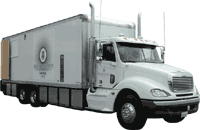 No need to purchase generator truck or trailer and tow vehicle
No need to insure and license these vehicles
No need to maintain these vehicles
No need to park these vehicles on location and store them when not in use